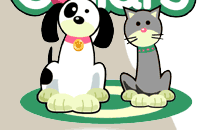 ---
Welcome to Clara's Store, where well dressed pets and their owners like to shop. At Clara's Collars you can find a ton of collars to fill your pet's wardrobe and make them the best dressed pet on the block. Click on one of the links below to browse through our selection of collars, leashes and accessories.

Collars / Leashes /Harnesses/Bow Ties and Flowers
Pet Tag Holders

Paypal is our preferred method of payment. Click above to sign up for your FREE account!
We also accept check, money order,

and any debit cards that have these symbols on them
Call us with your order at (724) 355-1372 or download the order form..